07/12/2020
Hot Tub News
0 Comments
Sail and Soak in a Hot Tub Boat
In British Columbia, the hottest trend of the summer is more than just figurative. Hot Tub Boat Canada is a new service that allows customers to sail out onto the Victoria Harbour in quite possibly the coolest way — in a hot tub.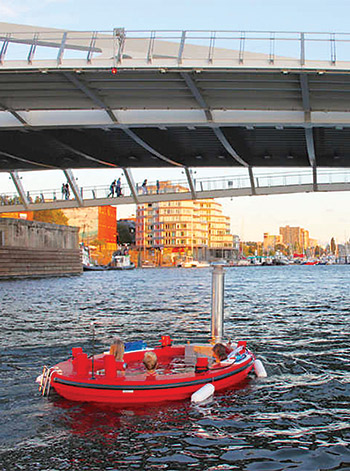 While most boats are designed to keep water from coming in, this unique vessel gets its charm when filled with about 3 feet of water heated by an onboard stove. The concept takes a hot tub boat specially built in the Netherlands and sets groups of two to six people on a self-guided tour of the harbor. And in case you could possibly forget that you're floating in a hot tub, the company supplies you with everything you need for the perfect party: a bluetooth speaker, dry bags for phones and plenty of water to stay hydrated.
With summer here many are trying to imagine what the upcoming activities of the season might look like in the new name of increased safety, and Hot Tub Boat Canada shows that innovation and precaution might be the key. To ensure that everyone has a safe and healthy voyage, each boat is filled with fresh and chemical-free water after every use, safety equipment is readily accessible, and participants must be at least 12 years of age to join the party and 19 to drive the tub. Pricing for a 1.5-hour trip is $65 per person as well as a $35 boat fee.
There has never been a better way to enjoy two of the best activities that summer has to offer. Although the rental is currently available only in Victoria, Hot Tub Boat Canada is looking to eventually expand to Vancouver and Kelowna. But no matter the distance, it's safe to say this is definitely one for swimmers to add to the summer itinerary.