⭐️⭐️⭐️⭐️⭐️ – Google 5 Star Review –
I can't say enough good about this business!! I am a new hot tub owner and was unsure what I needed and how to use it.
Based on what I was looking for they guided me to what I needed, gave me options, and did not pressure me to add things I didn't really need.
The delivery was fantastic!! They explained everything, made sure I understood, and ensured I was comfortable.
The best part was I felt like I was working with a friend and no matter what I needed they are always just a phone call away! Their customer service is the best I have experienced in a long time!!
What a breath of fresh air!! I very highly recommend them!!!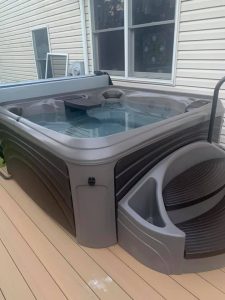 Kim
⭐️⭐️⭐️⭐️⭐️ – Google 5 Star Review –
We've been dealing with Outdoor Living for several years. We wouldn't even consider going anywhere else for our Hot Tub needs. They are always friendly, knowledgeable and professional.
Jeffrey
⭐️⭐️⭐️⭐️⭐️ – Google 5 Star Review –
Outstanding! That sums it up. We were going to look at hot tubs at another place but stopped in at Outdoor Living at the suggestion from our son, and we are glad we did. Kim answered all our questions and is very knowledgeable and very easy to work with. After purchasing a tub Mike and Wes installed it and went over all the instructions in a down to earth way. What they didn't know was that the day they installed it was my wife and my anniversary, so we had 2 celebrations that night.
Bart
⭐️⭐️⭐️⭐️⭐️ – 5 Star Facebook Review –
I am a first time hot tub owner and they were excellent to work with. They know their products and took the time to really educate me on my options so I could choose the perfect hot tub for our family. I shopped around and their products and customer service were far superior to the others. I also love that their hot tubs are American made and they donate a portion of my purchase to charity.
Shana
⭐️⭐️⭐️⭐️⭐️ – 5 Star Facebook Review –
The best folks to work with. Had a few warranty issues and they handled them quickly. Had the tub for 2 years now with no issues. We recently moved and had mike move the tub, but the site was not ready. No problem they were able to store it for us. Tub is now at the new home with zero issues. By far the best spa company in The 4 state area.
Brad