Finnleo Sa
una – For Your Health
For centuries, the Finnish people have known sauna improved their health. Now, numerous medical studies prove the health & wellness benefits of sauna: from cardiovascular and brain health to faster recovery after workouts.
Finnleo's Company History Dates Back 100+ Years
Finnleo is part of TyloHelo World Group, a world leader in the sauna and steam industry, with a history dating back to 1919 when the company was established in Wyborg, Finland. September 2019 we celebrated 100 years of bringing innovation in heaters and sauna design to sauna enthusiasts around the world.
Finnleo indoor sauna rooms enhance any space. Master bathrooms become European spas, and home gyms come full-circle with pre-workout warm-ups and post-workout recovery.
Custom-Cut saunas are designed to fit the space you have designated for a sauna. Whether the space is under a stairwell, an existing walk-in closet, or a wide-open basement, the Finnleo design team will design a beautiful and outstanding sauna experience.
 Indoor Sauna Room

INDOOR SAUNA ROOM – Finnleo Indoor sauna rooms enhance any space. Master bathrooms become European spas, and home gyms come full-circle with pre-workout warm-ups and post-workout recovery.  From quick to assemble Hallmark saunas to highly customized Custom-Cut saunas, Finnleo will recommend and design the right solution for your sauna needs & space.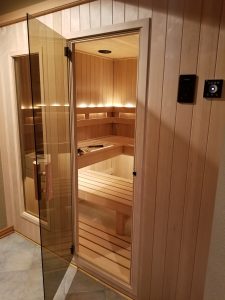 PERMANENTLY INSTALLED CUSTOM SAUNAS
LUXURIOUSLY DESIGNED, HANDCRAFTED FOR FRAMED WALL APPLICATIONS.
The beauty of a Custom-Cut solution is you get to have your sauna, your way—and still benefit from Finnleo materials, expertise, and quality engineering.  We know your sauna is a personal retreat, and that the pure sauna experience is shaped, in large part, by the comfort and decor details you choose. That's why Finnleo has a wide range of high quality options that let you design the perfect sauna for you.
MODULAR, FREESTANDING SAUNAS: DESIGNER OR SISU SERIES.
The Designer Series saunas are deluxe free-standing modular saunas that can be customized. Choose from seven distinct styles, each individualized with unique comfort and aesthetic features. The Sisu Series saunas are classic free-standing modular saunas that can be customized.
PLUG N PLAY – FIXED SIZES AND FEATURES (NOT CUSTOMIZEABLE), FREE-STANDING
The Hallmark Series offers high-end design features on standard sizes & designs which makes the series an exceptional value.  Finnleo's Hallmark Series makes owning a personal oasis at home easier than ever. Easy to assemble, yet loaded with upgrades usually found only in designer-type saunas, Hallmark puts the opportunity for a daily chance to relax and recharge within reach of everyone.
OUTDOOR SAUNA ROOM
The Finnleo Outdoor saunas' simple panel construction makes it easy to assemble anywhere you have space. At the same time, saunas integrated walls and gable system ensure you will enjoy a strong, durable sauna that will be perfectly at home outside for many years to come.
The roof kit is fully insulated and available with plywood (ready for your shingles), cedar shingles or metal roofing.
Inside, you'll enjoy all the comfort, style and attention to detail you expect from Finnleo. Nordic White Spruce or Cedar on the cathedral ceiling and walls creates a light, cozy, genuinely sauna feel. Abachi furnishings feel as good as they look, staying cool to the touch despite the sauna heat.
If you have a pool or hot tub, all the better—an Outdoor sauna will only add to the pleasure you already get from them.
INFRARED SAUNAS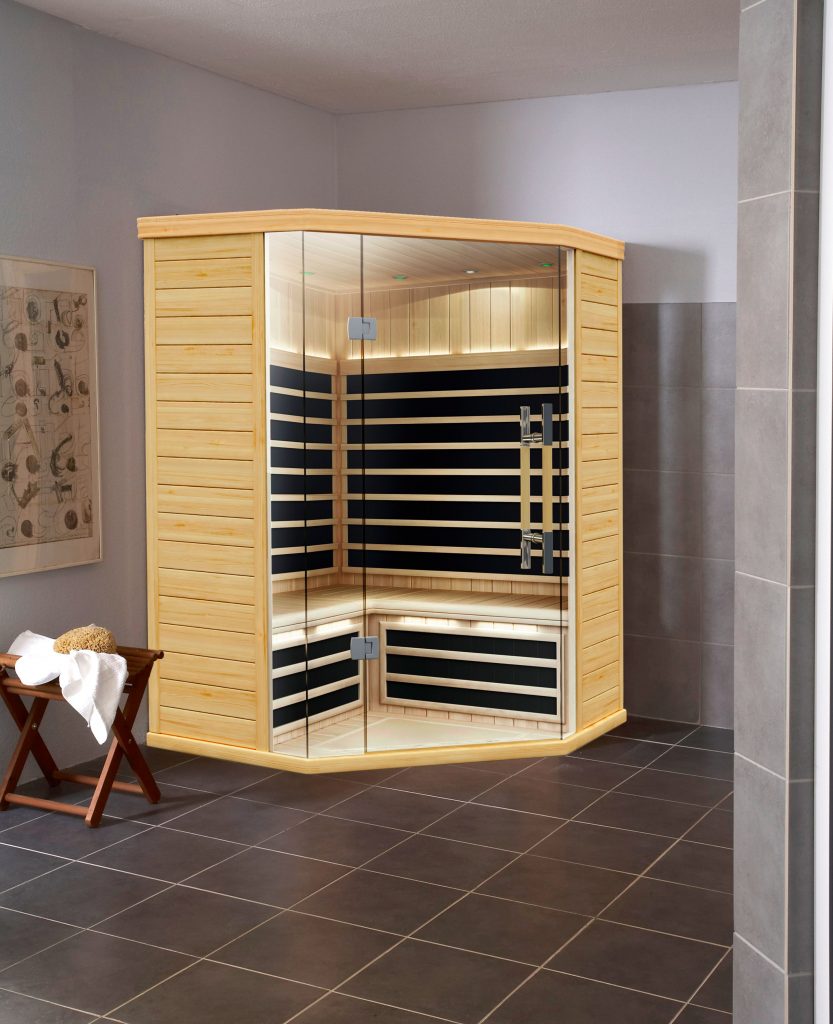 What is an Infrared sauna? Unlike a traditional sauna, infrared saunas don't heat the air around you. Instead, they use infrared lamps (that use electromagnetic radiation) to warm your body directly. "These saunas use infrared panels instead of conventional heat to easily penetrate human tissue, heating up your body before heating up the air," explains physical therapist, Vivian Eisenstadt, MAPT, CPT, MASP.
All infrared delivery systems produce EMR and EF to some extent. While the levels are typically low, it is still not clearly understood what the long-term effects of low exposure might mean. Pure Infra technology was developed to take the worry out of unnecessary exposure to EMR and EF. For instance, the electrical field in a Pure Infra is less than you'd experience from a computer screen or cell phone. After all, if the point is to detoxify, why expose yourself to any level of unnecessary radiation? In fact, the EMR and EF levels in your Pure Infra Sauna are lower than the ambient in your home. Your Sauna becomes your 'safe' haven.
We were first in the industry to introduce proprietary Low EMR/EF technology, which was market driven by the Canadian Medical Community, successfully developing technology with 4 patents in the US, Canada, and Europe. Our Lowest EMR/EF in the world has been verified by Intertek. These advancements truly changed the infrared sauna industry. While many competitors have tried to copy the design, Finnleo remains the leader.
S-Series Infrared – Spaciousness with comfortable seating for four. By dropping in a bench insert to convert the two long benches into a U-shaped bench, you can seat up to five people, or have two people lying down at once.
New Construction or Convert Existing Sauna into Infrared-Only and InfraSauna®
A Custom Infrared Sauna, an option previously unavailable and unique to Finnleo, will meet your special needs. Where IR was once limited to a few fixed sizes and models—now Custom Infrared and Custom InfraSauna® are available in limitless shapes and sizes; you are limited only by your design imagination.