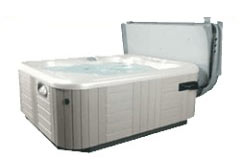 CoverMate I
Black powdercoated, rust free aluminum, non-corrosive brackets. Fast and easy to install. Requires only 10″ clearance behind the spa. Works on any spa up to 8′.
CoverMate II
Black powdercoated, rust free construction, equipped with non-corrosive brackets. Under style brackets use two aluminum 7″ base plates that simply slide under the spa. Simple 15-minute installation. Requires just 18″ clearance behind the spa. Works on any spa up to 8′ in length.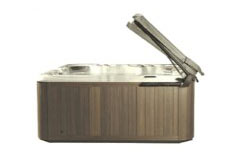 CoverMate III
This minimum clearance lift with hydraulic assist has trouble free performance. Requires just 6″ of clearance behind the spa. Also available with deck mount brackets.
SmartStep
Slip resistant rubber surface is soft to the feet.
Snaps together in seconds.
Available in many colors.
Optional SmartDrawer and SmartLight sold separate.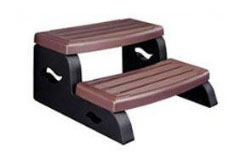 DuraStep
Large tread for safety
Slip-resistant tread
Snaps together in seconds
Strong, stable, and attractive
SpaUmbrella
9.5′ coverage area, simple one hand operation, canopy is easily removed for cleaning, rust-free design. Easy tilting & 360-degree rotation.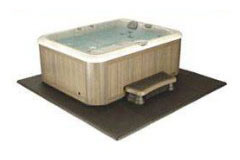 SmartDeck
Structrual support ribbing supports spa and more.
Modular component design allows for endless configuration. 24″ squares.
Great for permanent or temporary use.
Safe-T-Rail
Ultra-Sturdy, rust free construction
Slip-free black foam grip
5-minute installation
mounts on any above ground spa
TowelBar
Rust-free aluminum
Slip free, black foam grip
single, corrosion-free rotating bracket
10-minute install
mounts on any above ground spa
Smart Bar
Installs quickly with only 2 mounting brackets
39″ long by 14″ wide
Can be installed in a fixed or removable mode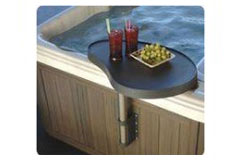 SpaCaddy
Sturdy reinforced plastic on a stainless-steel post
Swings toward and away for easy access
27″ x 19″ wide
Quickly mounts ton virtually any spa.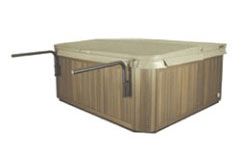 CoverShelf
Black powdercoated, rust-free construction
Shelf arms fold flat against spa when not in use
5-minute installation
works well on any shaped spa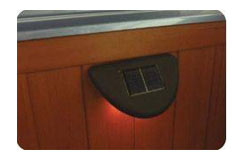 SolarLight Sconce
Hassle-free solar technology
No batteries or electrical work required
installs in minutes
Also works for non-spa uses
Automatic photo sensor turns light on for up to 12 hours.